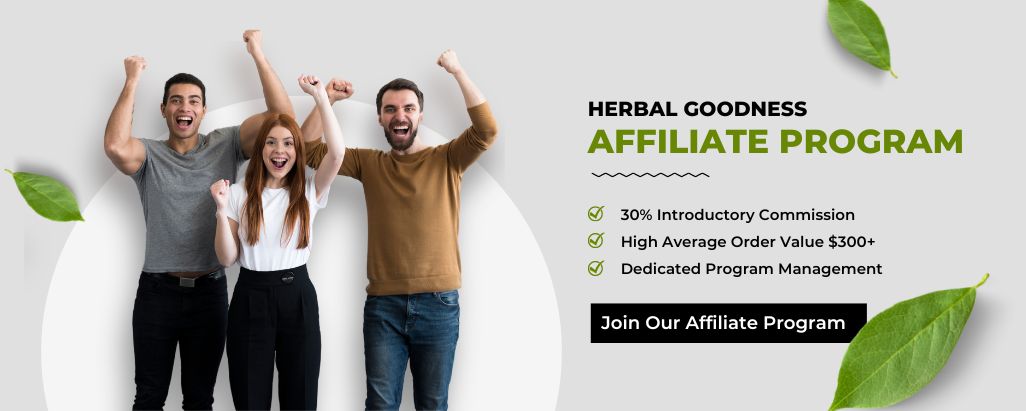 Herbal Goodness is the #1 manufacturer of super fruit and super food health and wellness products.
Our robust, quick, easy and profitable Affiliate Program pays introductory 30% commission on every sale  from our extensive product line of supplements, teas and consumables.
Provide your audience with trusted premium quality, organic, non-gmo, fair-trade, kosher-certified and made in the U.S.A products.
Our passion for health along with our years of experience makes us stand out.
Average sale of $150+ with fast delivery and unconditional, 100% satisfaction guarantee.
Choose from a wide array of web and social marketing collateral, banners or text links and even editorial content to fill your newsletters, news feeds and social posts.
Our in-house Affiliate Marketing team will work with you 1:1 to help you develop, execute, market and fulfill the best affiliate program that fits your needs and ensures those high commission payouts.
Program Highlights
30% Introductory Commission for first 30 days (20% Default)
90 Day tracking cookie on all click-through activity.
Engaging editorial content for your newsletters.
Optimized data feed with integration at PopShops, GoldenCan & Datafeedr.
High Average Order Value ($300+).
Dedicated Program Management 
Join the Herbal Goodness Affiliate Program today with confidence. We care deeply  about our Affiliates, and will provide you with the best service possible! 
Commitment to Quality
Herbal Goodness manufactures premium quality organic superfood, super herbs and fruit products to support healthy living.
We educate and inspire individuals to embrace a healthy lifestyle and explore the benefits of mother earths gifts, especially super herbs and fruits with high nutritional health benefits.
Because we absolutely need to know the quality and sources of the ingredients we use in our products, we  maintain direct, deep relationships with our farmers and build partnerships to support our suppliers, retailers and customers. We produce the highest quality products and never compromise our standards. 
Top Converting Products
Quality Products From Our Farms
Our organic, GMO-free products are cultivated in a socially responsible and sustainable manner, making them more economically viable for our farmers. Our ingredients are the highest, healthiest and most flavorful quality. From the farms to your homes, we pay special attention to every process to ensure our customers have the best quality products.
Accreditations
100% women-owned and run by a team of people who love healthy living.
10% of profits support education for girls in Africa.
We are green, care about our environment and use recycled materials where available.
Our motto is honesty, integrity and respect. Founded on biblical principles, we strive for the highest ethical standards and we will never compromise on quality or principles.